Walter Inglis Anderson Biography
(1903 - 1965)
By Mary Anderson Pickard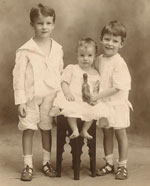 Walter, Peter and Mac
Walter Inglis Anderson was the second of the three sons born to Annette McConnell and George Walter Anderson in New Orleans, Louisiana. He was nicknamed Bobby by his older brother Peter, and is often called Bob today by family members. He attended a military boarding school with Peter in Manlius, New York, from 1915 to 1917, and the New Orleans Manual Training School from 1919 to 1922. Walter's artistic talents were evident early in his life. His parents encouraged his early interests in nature, books, music and art during his New Orleans and Gulf Coast childhood. He attended the Parsons Institute of Design in New York from 1922 to 1923 and then attended the Pennsylvania Academy of Fine Arts in Philadelphia from 1923 to 1928. Walter won several awards and scholarships while in Pennsylvania for his fine artwork including the Packard Award (1925) for his animal drawings, and a Cresson award, which allowed him to travel to Europe. Walter traveled throughout Europe and spent some time in France. He had little desire to stay in Paris, so he walked to the Pyrenees Mountains where he visited the caves at Les Eyzies. Fascinated by the cave paintings, he absorbed and incorporated these primitive designs into many of his later works.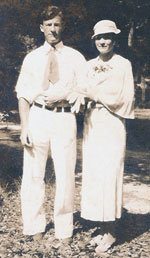 Walter and Agnes Wedding
In 1929 Walter returned to Ocean Springs, and in 1933 he married Radcliffe graduate, Agnes (Sissy) Grinstead, the younger sister of Patricia Grinstead who had married his brother Peter in 1930. Walter and Sissy had four children, Mary Anderson Pickard, William Walter, Leif, and John Grinstead.
In 1929 Walter and his younger brother Mac pooled their money and built an annex next to their older brother Peter's pottery workshop. There, they sculpted and made molds for small figurines. Respecting Peter's maxim of the beauty of the utilitarian, born of the Arts and Crafts Movement and reinforced by the teaching of their mother. Walter created lamp bases, bookends, vases, and ashtrays, many of which suggest his eclectic study of art history.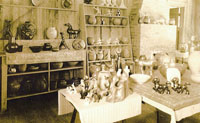 Inside the Showroom Circa 1940
Peter's beautiful thrown shapes were adorned by Walter with organic designs inspired by natural patterns and designs in the world around him. Walter experimented with various methods of decoration. He scraped pictures and patterns into a slipcovered surface in a process called scraffito. He carved his relief designs into bowls and vases, many of which were made into molds. Over the years bowls, plates, vases, cups, and saucers bloomed with his underglaze painting depicting icons from sea, earth and sky. No wonder he listed his occupation as "decorator".
Today Walter Anderson is well known for his jewel-like watercolors, his prolific ink drawings, the flowing lines of his linoleum block prints, and his extraordinary murals. His art can be seen in collections all over the country and in Ocean Springs at the Museum which bears his name. But from 1929 until his death, his salary at Shearwater was his only regular financial income. Though art and nature fed his spirit Shearwater afforded him his material supplies and the freedom for his many voyages to Horn Island, where he accomplished his finest work.
Walter Anderson had a variety of interests that included extensive reading of poetry, history, sciences, and art history. A voracious reader, he was drawn to books on folklore, mythology, philosophy, and epics of voyage and discovery. In his work Walter was both versatile and prolific. He created wood and clay sculptures and pencil, crayon, pastel, and ink drawings. He painted in watercolors and oils and made countless linoleum woodblocks and illustrations of the literature he read. He hooked rugs. An accomplished writer, he wrote sagely on subjects of interest to him.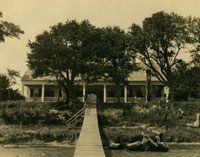 Oldfields Circa 1940
In the 1940s Walter Anderson and his family lived at the Grinstead family plantation, Oldfields, in Gautier, Mississippi, east of Shearwater Pottery on the Mississippi Sound. Here he created many of the now well-known blockprints and a series of figurines called the "Oldfields Series".
Walter Anderson thought that an artist should create affordable work that pleased others, and in return artists should be able to pursue their artistic passions. In the 1930s the Works Progress Administration (W.P.A.) was created under President Franklin Roosevelt's administration during the depression in part to assist artists. It commissioned Peter, Walter, and Mac to create works for the Ocean Springs Public School system: murals by Walter and tiles created by Peter and Mac. The murals have since been moved to the Walter Anderson Museum of Art. The tiles have been restored, and remain in the renovated school building on Government Street in Ocean Springs, now Mary C. O'Keefe Cultural Center.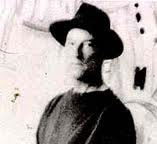 Walter at Community Center
Walter continued to decorate pottery at Shearwater until his death on November 30, 1965 in New Orleans from complications of surgery for lung cancer. After Walter's death his family discovered that his little cottage at Shearwater was a treasure trove containing works from all periods of his life, including remarkable renderings created during his Horn Island adventures. The magnificent mural, "Creation at Sunrise", adorned the walls and ceiling of the little bedroom which had been added on to the cottage to accommodate his growing family. Subsequent to his death he was accorded other awards: Mississippi Institute of Arts and Letters (1989) and Mississippi Hall of Fame (1991). He has been the subject of many books, essays and articles. The Smithsonian in Washington, DC, honored him with a retrospective show during 2003-2004 to commemorate his 100th birthday. Walter Anderson is certainly the South's greatest artist to date due to his staggering output, his energy and the unique quality of his work in so many media, like ceramic, watercolor, woodcarving, woodblock, oil painting and pen and ink drawing.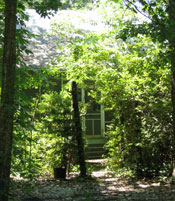 Walter's Cottage
No one knows exactly how many pieces of pottery Walter Anderson decorated. According to daughter Mary Anderson Pickard, he was expected to produce ten pieces per week while he was employed Shearwater. His decorated pottery was always popular and desired, not only by local people but also by art collectors and connoisseurs around the world. Artists such as Andy Warhol collected his work and recognized his genius.
The little cottage room with the brightly colored mural walls and fireplace has been removed and relocated, intact, to the Walter Anderson Museum in Ocean Springs, which opened in 1991. This museum is certainly one of the most beautiful and unique museums in the country. Anderson's watercolors, drawings, oils, block prints, ceramics, and woodcarvings are all represented in the museum's permanent collection. It is well worth a special trip. The museum is attached to the community center where Walter Anderson painted remarkable murals in 1951 and 1952, depicting the coming of the French among the Indians, and the place of Ocean Springs in the artist's cosmology, a veritable sea, earth and sky panorama. Walter Anderson's designs have created a local industry. Today his heirs sell his prints and items with his designs ranging from note cards, Christmas cards, prints, and posters to clothing. The Walter Anderson Family has its own shop, "Realizations", in the converted L& N Train Depot in Ocean Springs. The Museum Gift Shop and Shearwater Pottery also sell items with his designs, and fine jewelry using his designs has long been created by local artists. Careful observation has shown that these days his designs can be encountered on the clothing of passengers in any airport in the country.
Walter Inglis Anderson's daughter Mary Anderson Pickard, and his widow, Agnes G. Anderson, were the main forces behind introducing his work to the general public after his death in 1965. Mary was the curator of her Father's work for many years. There is growing recognition of Mary as an accomplished artist. Her son, Christopher (Chris) Inglis Stebly (b. 1967), is a well-known artist and sometime decorator at Shearwater.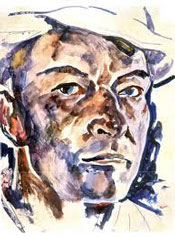 Walter's Self Portrait